News |
Best Luxury Cruises in Patagonia and Antarctica
Our essential guide to Patagonia and Antarctica's best cruises, discover the best luxury small ships and expedition cruises to the Antarctic Peninsula and Patagonia's fiords and glaciers.
By Walk into Luxury
The glaciers and fiords of southern Patagonia, and Antarctica's vast ice mass, are fertile grounds for world-class scenic cruising and truly unique wildlife viewing opportunities. Luxury Antarctica cruises depart from Ushuaia in Argentina, or Punta Arenas in Chile, with connections to Buenos Aires or Santiago. Patagonia's Los Glaciares - or Glaciers - National Park, near El Calafate, offers a chance to cruise between icebergs to renowned Upsala and Perito Moreno Glaciers. Further south, luxury cruise operator Australis sails between Ushuaia and Punta Arenas showcasing the fiords and glaciers of Southern Patagonia and Tierra del Fuego.
Here's our round-up of the very best luxury small-ships traversing the unique landscapes of Patagonia and Antarctica, and how to combine them into your South American journey.
Main image: Ponant L'Austral Antarctica Cruise
---
Antarctica luxury cruise onboard Scenic Eclipse
Scenic Eclipse's Antarctica cruises suit the luxury traveller seeking six-star inclusions and access to unique experiences including heli and kayaking excursions.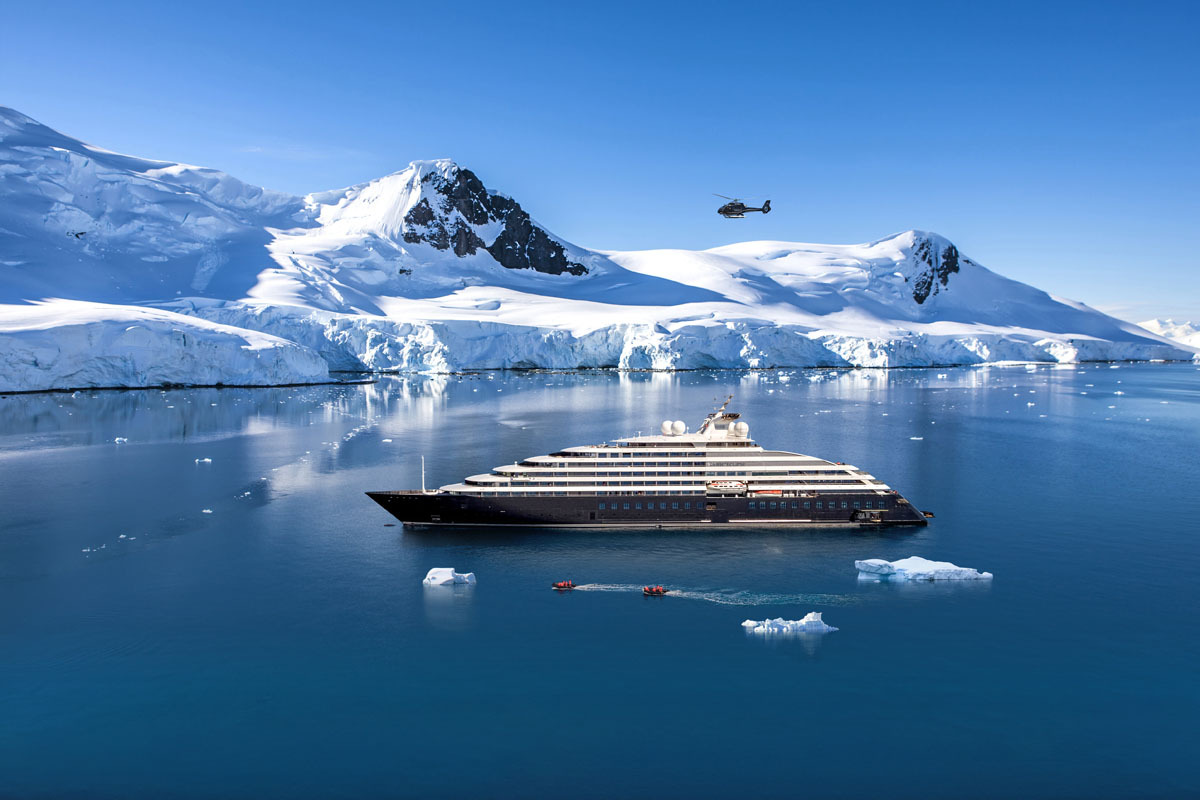 Scenic Eclipse Antarctica cruises are operated on world-first discovery yachtsTM blending state-of-the-art technology (including advanced stabilisers for a comfortable crossing of the infamous Drake passage) with 6-star ultra-luxury facilities. Every cabin comes with floor to ceiling windows and a private verandah, ideal for watching icebergs float by over a coffee or glass of wine. Dining across 10 specialty restaurants, room-service and an open bar is included, with dining ranging from fresh sashimi at a modern sushi bar to an 8-course French degustation dinner at fine-dining restaurant, Lumiere. The modern spa, sauna and pool facilities and nine bars round out the Scenic Eclipse onboard experience. Tender boat excursions and all kayaking is included - this is a point of difference as most Antarctica cruise companies charge extra for kayaking - and two helicopters offer unique aerial viewing opportunities above Antarctica (cost applies). Scenic Eclipse Antarctica cruises depart from Ushuaia on Argentina's southern tip, with Buenos Aires air transfers included. A day trip to Cape Horn on the day of departure is a recommended add-on.
> View the 11 night Antarctica Cruise on Scenic Eclipse or our combined Luxury Antarctica Cruise and Patagonia Journey

> Recommended pre/post cruise accommodation: Stay in the best luxury accommodation in Ushuaia at Arakur, or Legado Mitico for extra time in Buenos Aires
> Combines well with extensions into El Calafate and El Chalten in Argentinian Patagonia. You may like to consider our Best of Patagonia private journey, an El Chalten hiking extension or Explora El Chalten luxury lodge. We also recommend incorporating Iguazu Falls, Mendoza and Peninsula Valdez if you have more time to enjoy in Argentina.
---
Patagonia luxury cruise onboard Australis

Sail between Punta Arenas in southern Chile to Ushuaia in southern Argentina for unique access to the fiords and glaciers of Tierra del Fuego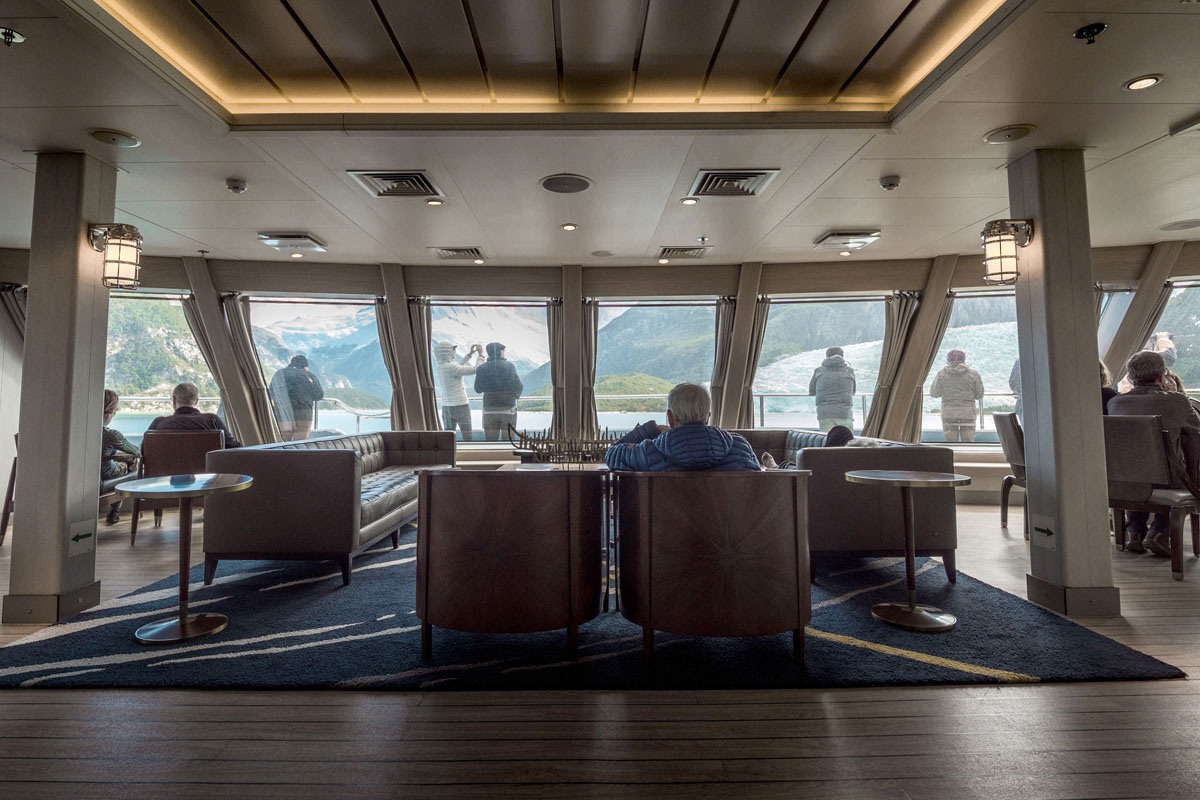 Australis luxury sister ships, Ventus Australis and Stella Australis, sail between Ushuaia and Punta Arenas taking in the glaciers and wildlife of southern Patagonia and the fiords of Tierra del Fuego. Over four nights, this luxury cruise passes huge blue glaciers, dramatic waterfalls and subpolar forests before reaching the renowned Beagle Channel and Cape Horn. Opportunities to view penguins, elephant seals and leopard seals are available, a highlight for many. The onboard experience includes gourmet dining and an open bar (set times) with spacious cabins including a large picture window in most classes. The Yamaha lounge is the place to watch the glaciers pass by from the front of the ship with other guests. For the adventurous, guided excursions in tender boats allow access to wilderness walks and up-close wildlife encounters. This 4 night Patagonia luxury cruise is a popular addition to a journey to Torres del Paine National Park or El Calafate in southern Patagonia, or any trip to Chile or Argentina.

> View 4 Night Patagonia Luxury Cruise on Australis
> Recommended pre/post cruise accommodation: Arakur Resort & Spa in Ushuaia, or try Cabo de Hornos Hotel in Punta Arenas. If you fly via Santiago try Magnolia Hotel or The Singular Santiago, and in Buenes Aires our favourite hotel is Legado Mitico
> Combines well with Torres del Paine National Park and the W-Trek, just four hours drive north of Punta Arenas (still within Chilean Patagonia). Atacama Desert and the Chilean Lakes District are easily combinable from Punta Arenas or Torres del Paine if you plan to explore more of Chile. Tip - ask about complimentary transfer options between Punta Arenas and Torres del Paine National Park available with some private journeys.
---
The Ultimate Antarctica expedition cruise onboard Ponant L'Austral

A Ponant Antarctica cruise offers unique access to the white continent with elegant cabins, industry-leading ship technology and exceptional dining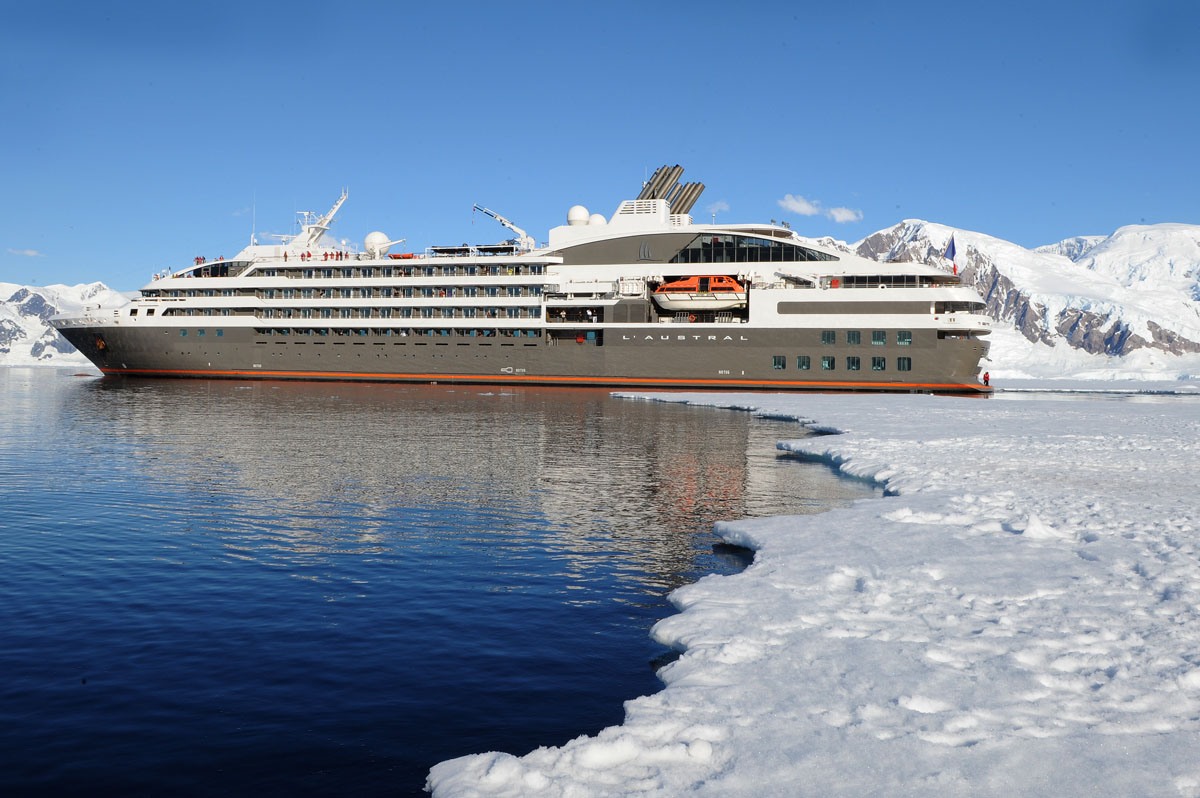 Luxury expedition cruise company, Ponant, heralds from France, so it is not surprising that the culinary offering onboard is second to none. We recommend Ponant's L'Austral luxury small-ship for your Antarctica cruise, which sails from Ushuaia and incorporates the Weddell Sea into its 10 Night Antarctica itinerary. Ponant's naturalist guides lead excursions on and around the spectacular icefield and glaciers of the Antarctic Peninsula, with zodiac boats offering convenient access to the white continent. Luxury furnishings, gourmet all-inclusive dining and an open bar make for a special journey, and we love the onboard pool and spa facilities. Educational seminars are on offer in the theatre to learn about the geology, wildlife and climate science of Antarctica as you sail through the waters of this most-unique continent.
> View: 10 Night Ponant Antarctica Cruise on L'Austral
> Pre/post cruise accommodation: Arakur luxury resort and spa, Ushuaia, and we recommend Legado Mitico in Buenos Aires for an luxury boutique hotel in the heart of Palermo Soho.
> Combines well with Argentina's best luxury homesteads and lodges - consider EOLO Patagonia near El Calafate for a luxury Estancia experience, Casa de Uco in Mendoza's Uco Valley for wine tasting surrounded by the Anded foothills, or Awasi Iguazu Falls in Argentina's far-north.
---
Glaciers National Park luxury cruise - Spirit of the Glaciers

Sail onboard luxury small-ship, Santa Cruz, on Lago Argentina past icebergs to the towering glaciers of Los Glaciares National Park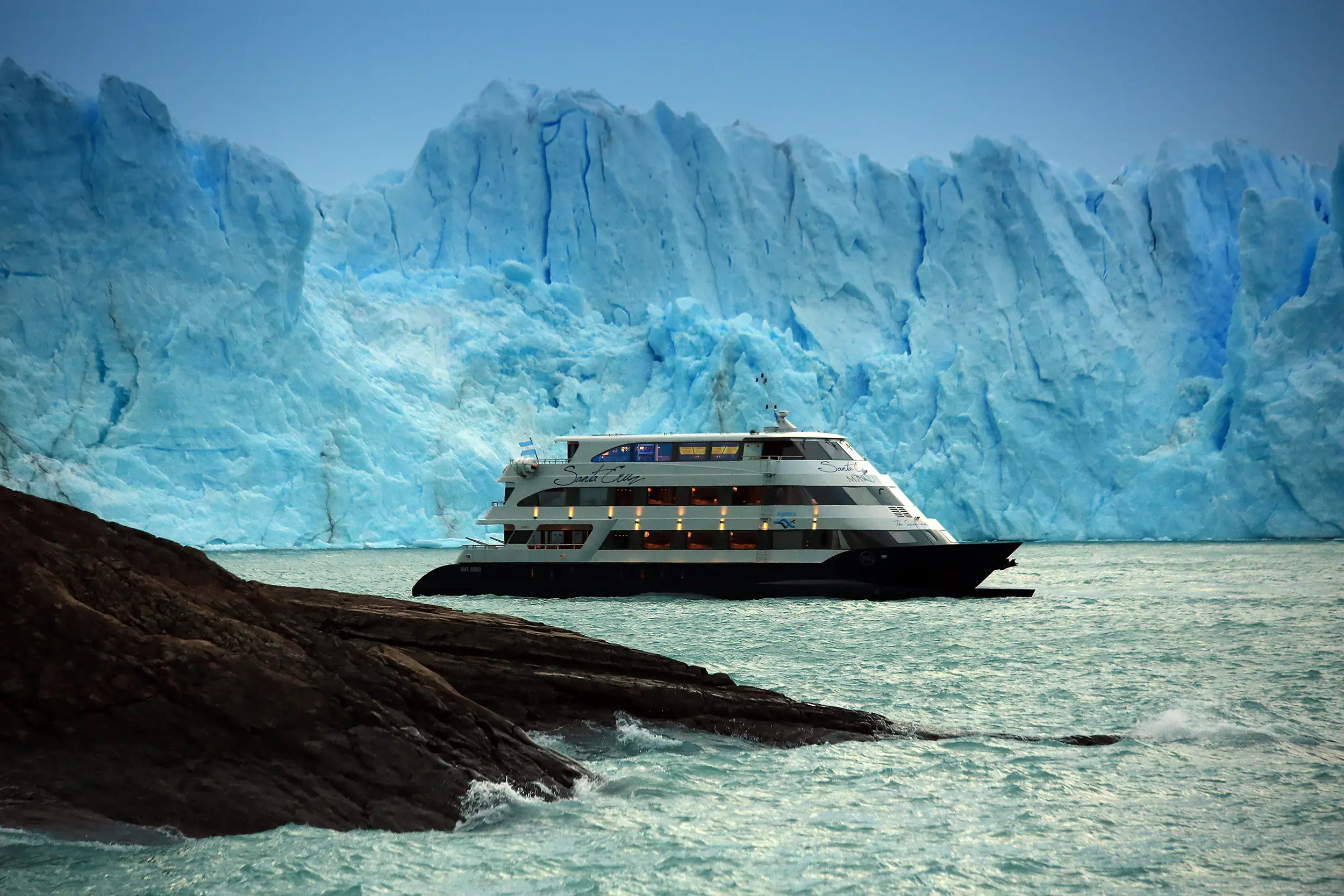 If you are short on time, the Spirit of the Glaciers luxury cruise in southern Patagonia offers unique access to the glaciers of this remote region over just three days. Departing from Puerto Banderas near El Calafate, MY Santa Cruz sails across Lago Argentino to three must-see glaciers of Los Glaciares National Park: Upsala, Spegazinni and Perito Moreno Glacier. Guests enjoy fine dining and local wines and scenic cruising onboard the luxury ship, with a chance to walk through remote Patagonian-Andean forest and along the base of glaciers on off-boat experiences that are otherwise inaccessible. This is a unique luxury cruise experience in Patagonia we recommend for those visiting El Calafate.
> View 3 Day Luxury Cruise in Glaciers National Park
> Pre/post cruise accommodation: We recommend EOLO Patagonia, an estancia located just 30 minutes from Puerto Banderas port on Lago Argentino. If you prefer to stay in El Calafate town, we like Esplendor Hotel, El Calafate
> Combines well with our 7 Day Best of Patagonia private journey - which features luxury lodge, Tierra Patagonia in Torres del Paine National Park - and our 4 day luxury hike in El Chalten

---
Complete your journey in Chile or Argentina
A luxury cruise to Antarctica or Patagonia is a special trip and often a significant investment. We understand you'll want quality accommodation in Buenos Aires, Santiago, Ushuaia or Punta Arenas to complement your cruise and flight route, and you might be interested in extension options to cover those bucket-list destinations and experiences whilst you're in the remote corner of Chile and Argentina. Here are some resources to help with planning your special journey.

> Browse Patagonia's best luxury lodges and journey ideas
> Browse Chile's best accommodation and tours in Santiago, Atacama Desert, the Lakes District and Torres del Paine National Park
> Browse Argentina's best accommodation and tours in Buenos Aires, El Calafate, El Chalten, Peninsula Valdez, Mendoza and Iguazu Falls
Get in touch with our Journey Designers to plan your Antarctica or Patagonia journey.