As the saying goes, there is no such thing as bad weather just inappropriate clothing. We want you to make the best of your journey, which means packing for the destination and conditions.
Australia and New Zealand's weather by region

As a general guide, Australia is divided into the tropical north which spans the top third of the country, and the more temperate remainder of the country which gets warmer the further north you travel. The tropical north has a wet and dry season, with the wet running on average from November to March and characterised by hot humid days and afternoon rainfall and occasional storms. This is also a season where travel can be impacted by seasonal closures in some areas due to flooding. The dry season in the tropical north, often from April to October, promises warm dry days at a time when the rest of the country experiences its cooler winter months.
New Zealand consists of two main islands, the North Island and South Island, and several smaller islands. The country has an oceanic climate with relatively mild temperatures and moderate to high rainfall. The temperate climate throughout most of the country is punctuated by subtropical weather in the far north in summer and the colder temperatures in winter (as low as minus 10°C) in the alpine regions of the far south. December, January and February are the warmest months with average maximum temperatures between 20ºC - 30ºC. The coldest are June, July and August when temperatures average between 10ºC - 15ºC in the temperate regions and hover around zero or below in the alpine regions.
Here are some notes on average temperatures and conditions to help with timing your journey just right and packing to suit conditions you'll encounter on your trip.
East Kimberley (WA)

Darwin, Uluru and Alice Springs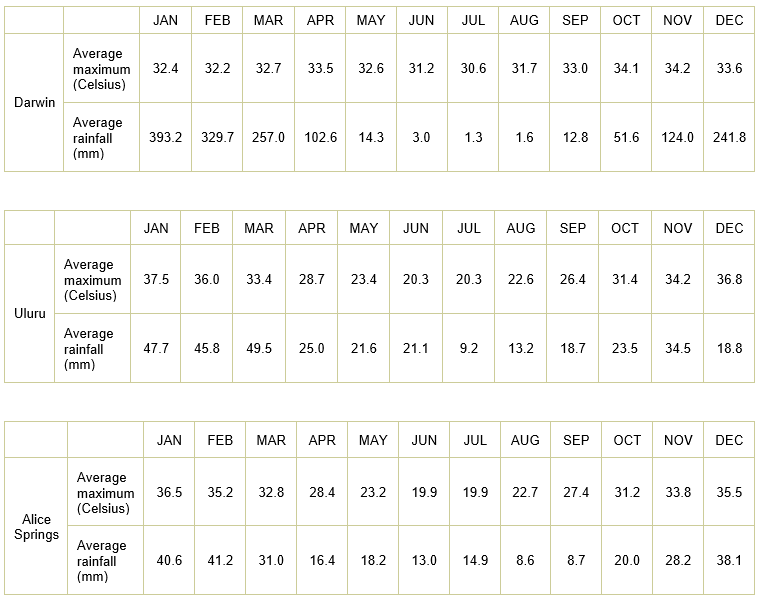 Perth and Rottnest Island


Ningaloo Reef and Broome

Margaret River and WA's South Coast

Victoria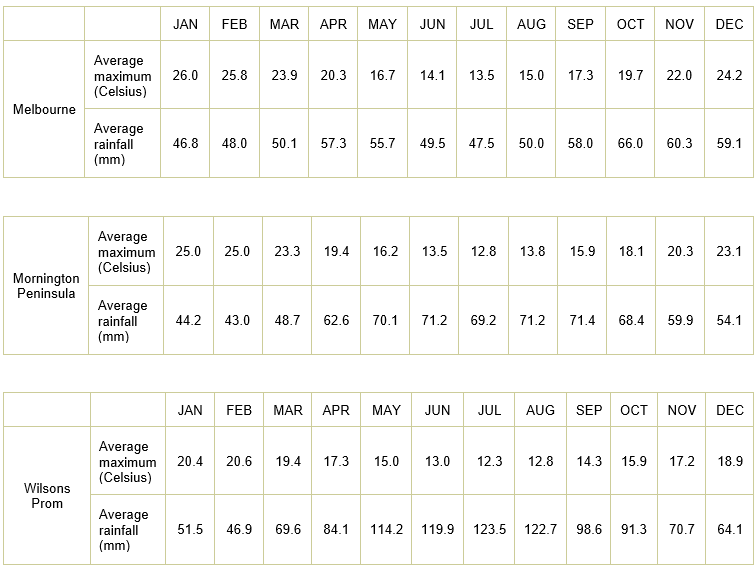 Tasmania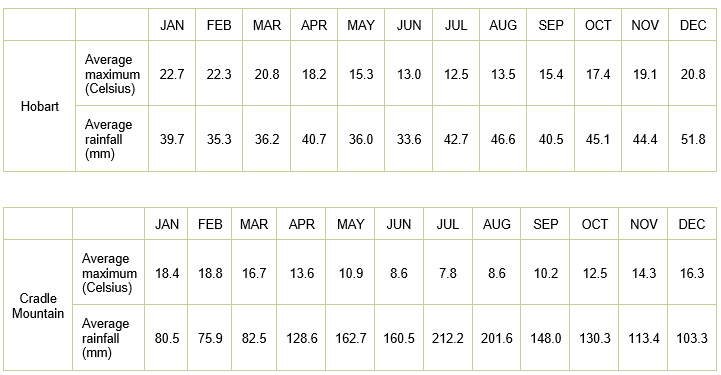 Scenic Rim and Brisbane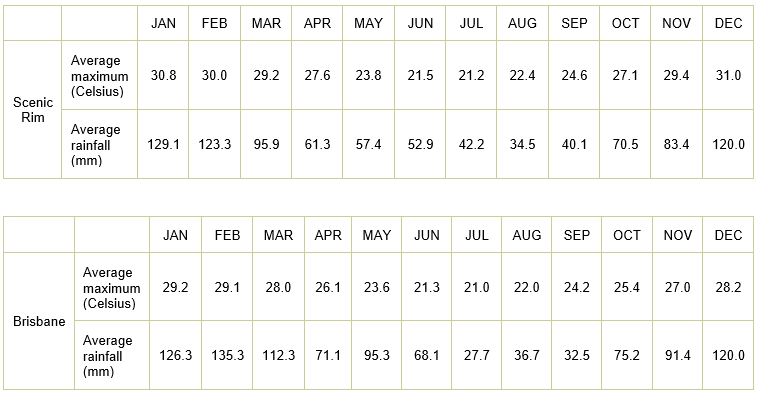 New South Wales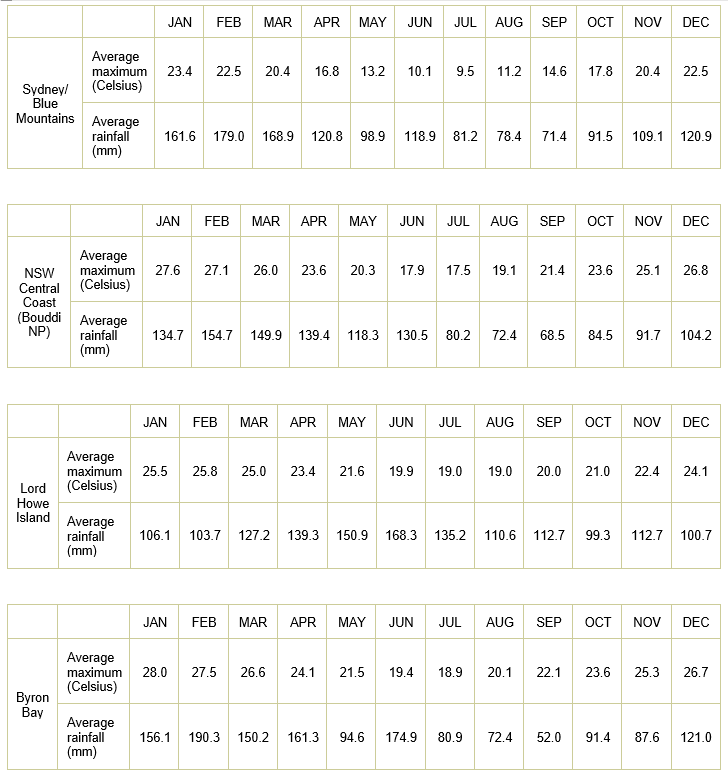 Great Barrier Reef (Lizard Island & Orpheus Island)

South Australia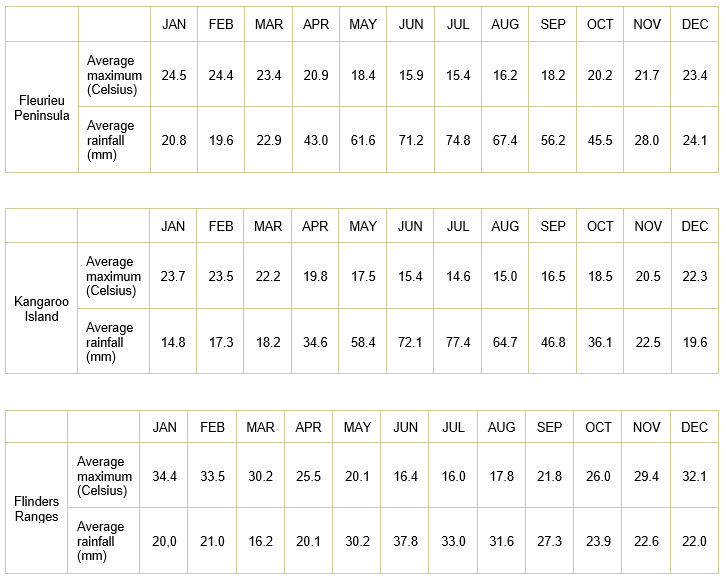 Queenstown (NZ)

Bay of Islands (NZ)

Auckland (NZ)

Taupo (NZ)

Marlborough / Queen Charlotte (NZ)

Walk packing lists
If you will be joining us on a multi-day walk, you can expect to receive a detailed packing list before you travel to ensure you're kitted out for the terrain and logistics of a multi-day hike.
If you are travelling with us on a private journey, please consider the weather for the destinations you are visiting to help guide your packing list and let us know if you have any questions. We do also recommend that guests who will be participating in any day walks during their journey bring a small day-pack to ensure you are able to comfortably carry any personal items such as water, packed lunch and a towel.
As always, please don't hesitate to get in touch with any questions.